See on Scoop.it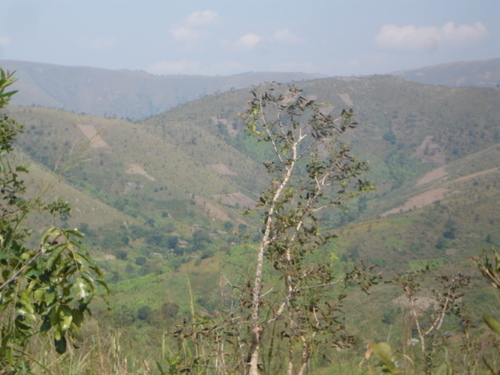 "Information on climate change and its links with forests are not readily available in Central Africa. The concept of climate change and its processes evolve so quickly that decision makers are hard pressed to keep up. In addition, most of the available information is disseminated through very selective channels (scientific journals, articles, newsletters, websites, etc.) that do not always reach a wider audience.
Radio remains the most accessible means of communication, because it is available to everyone and is relatively inexpensive.
"Changing seasons" is a CIFOR-COBAM radio program that adopts a debate format. It is broadcast monthly by the national radio station, Cameroon Radio and Television (CRTV), which has nationwide coverage,exchanging information on climate change and its links with forests…
PHOTO: Cleared trees and ground-cover to grow bean crops is quickly denuding vast areas of eastern
Burundi
. As rain has decreased over the last decade+, natural growth simply does not regenerate. Photo credit: d
ianabuja
diana buja's insight:
The use of radio as an extension and communication tool can be an excellent method of linking up with local people and with extension and other relevant workers.  In much of rural Africa there is an information gap that, as here in Burundi and in the Congo, is pervasive due to war, unrest, and poverty.

However, to make it work, there are some necessary inputs – chief of which, as pointed out in the last blog post, is ongoing support for  the project *beyond* the 2 or 3 years of a grant.    Part of this work must involve networking and bringing on board relevant experts and policy folk in ministries of agriculture (etc) as well as government offices.  Without that, sustained operation may not occur.

Photo (left):

A. Engler

(ed.): 

Natürliche Pflanzenfamilien

. Vol. III, 3.  

In northern Sudan, I have seen villagers enjoying an excellent radio program focused on gum arabic trees (Acacia senegal & A. sayel) and related ground crops.  It was very much appreciated in the gum Arabic regions (south of El Obeid) in which I was working.

 

Here in Burundi, several years ago an international donor funded and mounted an educational radio station with links to about six major areas of the country.

I collaborated in developing a series of programs on small ruminant husbandry, an important topic given losses during the fighting, plus inbreeding and diseases – a logical next step after having completed a major assessment of the role of restocking and small ruminants in post-conflict reconstruction.  We received funding for this applied research program from AARNET-ILRI (the Animal Agriculture Research Network of the International Livestock Research Institute).

However, because key policymakers were apparently not committed to an educational radio station, and perhaps more importantly, because the country was not yet sufficiently at peace, the programming lapsed primarily into popular music.  A good lesson on the need for both interactive project design and for ongoing followup.
See on www.cifor.org
Related articles